The Craft Dookit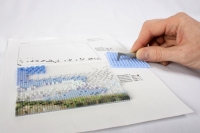 Welcome to Pixel Mosaic an amazing new hobby craft. This fantastic new craft, is suitable for all the family, great fun and very addictive.
Looking for a new art/craft to express your creative side or just looking for something different. Then why not try Pixel Mosaic, this exciting hobby craft is so simple to master requires no gluing, stitching, counting or cutting.
All you require is a flat surface, a pair of tweezers, a little time and you can create the most amazing Pixel Mosaic pictures.
This new craft is not available in any of the large crafting shops. So why not have a look at our on-line shop or come along to one the events we are attending and watch our demonstrations.
The Craft Dookit and Craftlines are part of J. P. CRAFTS
As advertised on UK television!